Virat Kohli Improves T20 Rankings: Team India captain Virat Kohli has returned to the top-5 in the ICC T20 batting rankings. Virat scored 73 in the second T20 match against England and 77 runs in the third match. Thanks to these, he gained 47 rating points and has moved up to fifth place with 744 points. England's David Malan is in first place with 894 points.
Lokesh Rahul Still Ahead of Virat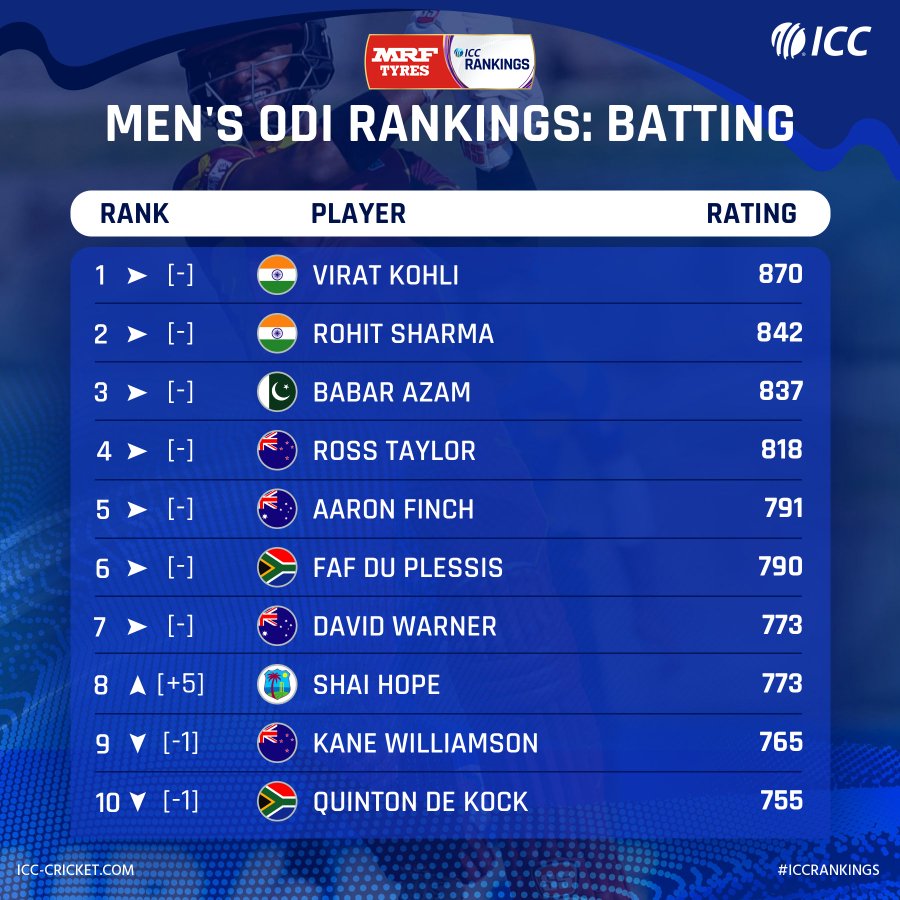 Lokesh Rahul, who scored just 1 run in the last four T20 International innings, is still above Virat Kohli in the rankings. Rahul is in fourth place with 771 points. Australia's Aaron Finch is second with 830 points and Pakistan's Babar Azam is third with 801 points. Virat Kohli Improves T20 Rankings.
Virat is the Only Batsman in Top 5 of all Three Formats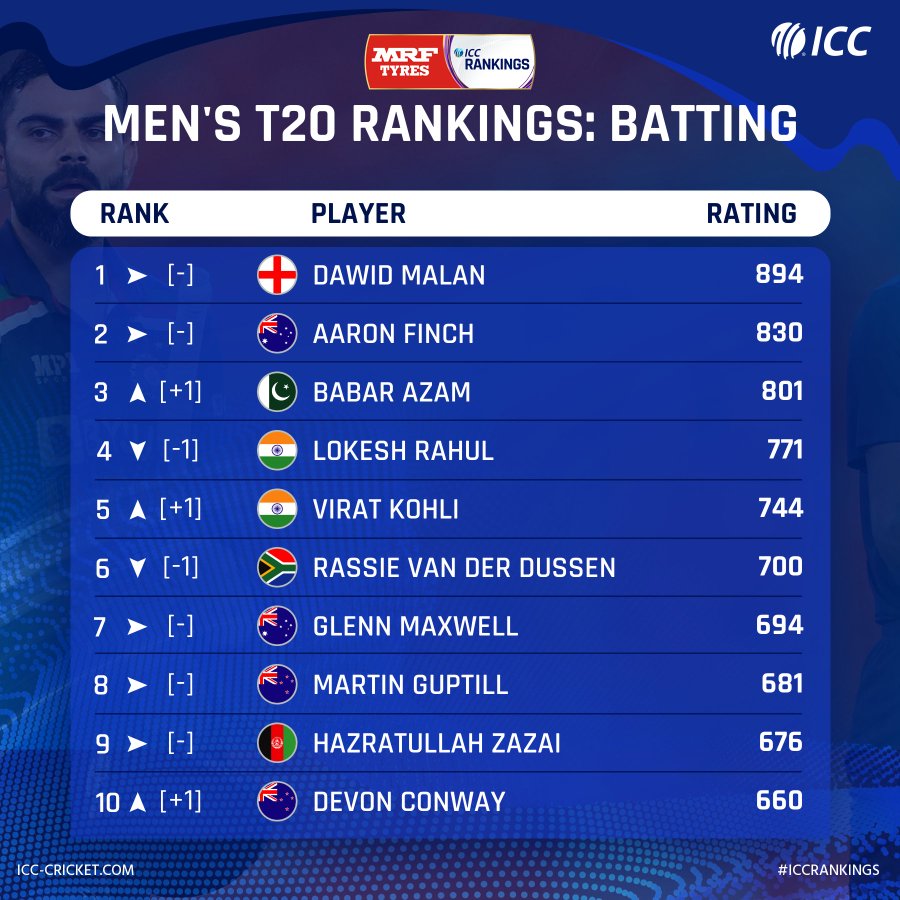 Kohli is currently the only batsman in the world to be in the top-5 of all three formats of international cricket. Virat Kohli is the world's number-1 batsman in ODI cricket. He has 870 points in ODIs. He is fifth in the Test with 814 points. Other Indian batsmen in the T20 International include Rohit Sharma (17th), Shikhar Dhawan (27th) and Shreyas Iyer (31st) in the top-50. Rishabh Pant is at 80th position.
No Indian Bowler in Top 10
No Indian bowler is included in the top-10 in the rankings for T20 bowlers. Washington Sundar is in 11th place with 631 points and is the highest-ranked Indian bowler. Jaspreet Bumrah is 23rd, Yuzvendra Chahal 25th and Shardul Thakur 27th. Afghanistan's Rashid Khan is the number-1 bowler with 736 points.
Eoin Morgan Present at 11th Position
England captain Eoin Morgan is in 11th place with 652 points. Johnny Bairstow jumped two places to number 14. In the third T20, he shared a 77-run partnership with Jose Butler. Butler is ranked 19th. Jason Roy has moved up to 24th place. Among England bowlers, Adil Rashid is at fifth position with 699 points. Chris Jordan is 15th, Joffra Archer 34th, Mark Wood 39th and Sam Karen 74th.
Babar Azam will Now be on Virat's Target
Pakistan batsman Babar Azam has got the advantage of slipping one place from KL Rahul to the rankings of fresh T20 batsmen, who have now climbed from fourth to third position. Rahul has 771 rating points, while Babar Azam has 801. 30 points between Babar Azam and KL Rahul, while his distance from Virat Kohli is 57 points. Rahul's current form is bad. But, Virat is in tremendous form. 2 T20s are yet to be played against England. While performing well in both these matches, Virat Kohli will surely have the position of Babar Azam and his number 3 position.