India Declared the First Innings on a Score of 497/9, Shami and Umesh gave the South Africa Took Two Wickets
Rohit Sharma Scored 212 and Ajinkya Rahane Scored 115, Jadeja Scored 51 Runs
Ranchi Test: India scored 488 runs in the first innings of the third Test against South Africa. On Sunday, Rohit Sharma scored 212 runs on the second day of the Test. He scored the first double century of his Test career. Apart from him Ajinkya Rahane (115 runs) also played a century. Answer in South   Africa lost their two wickets for only 9 runs. Mo. Shami took the wicket of Dean Elgar (00) and Umesh Yadav with Quinton de Kock (4 runs). Due to poor light, only 5 overs were played after tea on the second day. South  Africa captain Faf Duplessis (1) and Zubair Hamza (0) returned unbeaten.
Rahane was dismissed for his 11th career century. He shared a 267-run partnership for the fourth wicket with Rohit. Rahane scored a century on home ground after three years. He scored his last century against New Zealand in October 2016 in Indore. Umesh Yadav contributed 31 and Wriddhiman Saha contributed 24 runs. For South Africa, George Linde took 4 and Kagiso Rabada took 3 wickets.
Read Here: India vs South Africa 2nd Test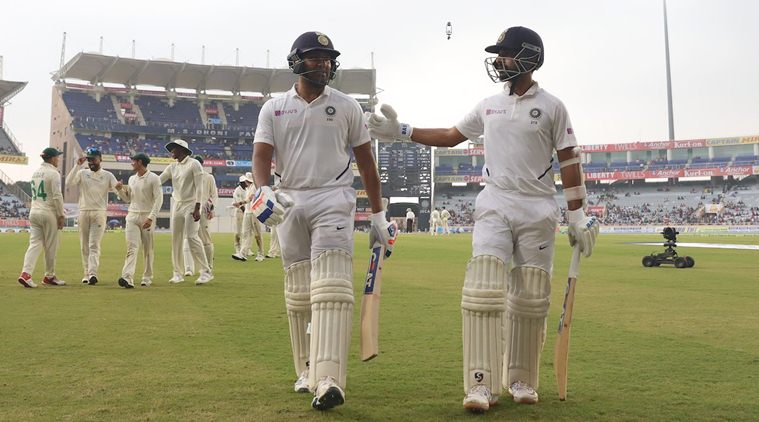 Rohit First Indian to Score 500+ Runs in Series Against South Africa
Rohit became the first Indian to score the most 500+ runs in a series against South Africa. Before him former captain Mo. Azharuddin scored 388 runs in the domestic series in 1996–97. Rohit became the fifth Indian to score 500+ runs in any one Test series. Earlier, Veenu Mankad, Budhi Kundaran, Sunil Gavaskar and Virender Sehwag had done so. Ranchi Test.
Three Indians Hit Double Centuries in a Series for the First Time
For India, three players have scored double centuries for the first time in any one Test series. In this series, Mayank Agarwal scored 215 in the first Test against South Africa, 254 by Virat Kohli in the second test and Rohit scored 212 runs in the first innings of the third Test. Earlier in 1955-56, Vinoo Mankad of India scored 2 and Pauli Umrigar scored a double century against New Zealand.
Rohit Hit the Most Sixes
Rohit became the highest batsman to hit 19 sixes in a Test series. He broke Shimron Hetmyer's record for the West Indies. Hetmyer had hit 15 sixes in the series against Bangladesh in 2018/19. Before Rohit, this record for India was in the name of Harbhajan Singh. Harbhajan hit 14 sixes in the series against New Zealand in 2010/11.