New Zealand beat Sri Lanka by 10 Wickets
Captain Dimuth Karunaratne Scored 52 runs, Sri Lankan team made 136 runs in 29.2 overs
New Zealand defeated Sri Lanka by 10 wickets in their first match of the World Cup on Saturday. first time in the 44-year history of the World Cup Sri Lankans has lost 10 wickets. New Zealand won the toss and decided to bowl at Cardiff's Sofia Gardens. Sri Lankan team all out in 29.2 overs 136 runs. New Zealand won the match in 16.1 overs without losing the wicket. New Zealand beat Sri Lanka by 10 Wickets
Matt Henry selected Man of the Match. New Zealand's batsman Martin Guptill 73 and Colin Munro 58 played unbeaten half-century innings. Guptill and Munro's half-century completed on 41 balls. Sri Lankan Bowler Lasith Malinga gives the most runs, He scored 46 runs in 5 overs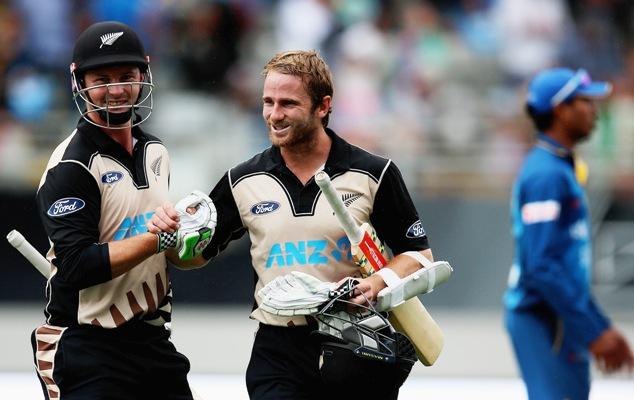 Sri Lanka's Team Seven times all out less than 150 score
It is the Sri Lanka fifth-lowest score in the World Cup. This side Captain Dimut Karunaratne scored a half-century, Kusle Pereira 29 runs, and Thisara Pereira 27 and other players could not reach ten runs scored. Captain Dimut Karunaratne was the highest scorer for your team. He scores 52 off 84 balls unbeaten.
New Zealand's second Highest win in World Cup
New Zealand won in 16.1 over and remaining 203 balls. He won the third time in the world cup tournament by 10 wickets. Earlier on 20 February 2011 against Kenya in Chennai, won by 10 wickets, remaining 252 balls. in the same world cup. Ahmedabad had defeated Zimbabwe by 10 wickets with 99 balls remaining
Sri Lankan 8 batsmen could not reach double-digit
Lucky Ferguson sent the pavilion to Dhananjay D'Silva (4), Jeevan Mendis (1) and Lasith Malinga (1). Angelo Mathews (0) caught out caught at the hands of Tom Latham on Colin DeGrad home. Trent Bolt hit Thesira Pereira (27) on long over on Mitchell Santander. Matt Henry hit the catch of James Neesham (0). The Bolt caught Suranga Lakmal (7) in the hands of Santander. New Zealand beat Sri Lanka by 10 Wickets.