India declared first innings on 502/7, South Africa score 39/3
Mayank Agarwal scored 215 and Rohit Sharma scored 176 runs.
India took a 463-run lead against South Africa in the first innings of the first Test being played in Visakhapatnam. On Thursday, on the second day of the Test, India declared an innings by scoring 502 runs for seven wickets. In the last session of the day, South Africa lost their 3 wickets for 39 runs only. Earlier, Mayank Agarwal was out for India by scoring 215 runs. He scored the first double century of his Test career. This is also his first century in 5 Tests. Rohit Sharma scored 176 runs. Ashwin and Jadeja took wickets.
In reply, South Africa's Dean Elgar scored 27 and Temba Bavuma returned unbeaten after scoring 2 runs. Aiden Markram was bowled by Ashwin on a personal score of 5 runs. Theunis de Bruyn scored 4 runs and caught Riddhiman Saha off Ashwin. Dane Pete was bowled off Jadeja without opening the account. 
Kohli, Pujara and Rahane Dismissed Cheaply
Cheteshwar Pujara 6, Virat Kohli 20, Ajinkya Rahane 15, Hanuma Vihari 10 and Riddhiman Saha scored 21 runs. Both Rohit and Mayank hit 23 fours and six sixes in their innings. Mayank-Rohit shared a 317-run partnership for the first wicket. Ravindra Jadeja remained unbeaten on 30 and Ravichandran Ashwin 1 run.
India Wickets Fell Like This
First wicket: India got the first blow on the score of 317 runs. Keshav Maharaj brought the first success to South Africa. He stumps Rohit at the hands of Quinton Deacock.
Second wicket: India's second wicket fell on the first ball of the 89th over. Cheteshwar Pujara was bowled by Vernon Philander for 6 runs. The team then scored 324 runs.
Third wicket: Team India captain Virat Kohli could not stand much crease after a good start. Muthusamy took his catch on his own ball. Kohli shared a 53-run partnership with Mayank.
Fourth wicket: Vice-captain Ajinkya Rahane was dismissed as the fourth batsman. He was caught at cover by Temba Bavuma off Keshav Maharaj. Rahane formed a 54-run partnership with Mayank.
Fifth wicket: Mayank Agarwal was dismissed by part-time spinner Dean Elgar. Mayank Fultos wanted to hit a six over the ball, but the ball went into the hands of Dan Pete.
Sixth wicket: Hanuma Vihari was also dismissed in an attempt to hit a six. Elgar took a catch at the mid-off boundary off Keshav Maharaj.
Seventh wicket: Riddhiman Saha, who was playing for the first time since January 2018, was out for 21. He hit four fours in a 16-ball innings. Muthusamy was caught by Dane Pete.
Rohit-Mayank Formed Third Major Partnership for India for First Wicket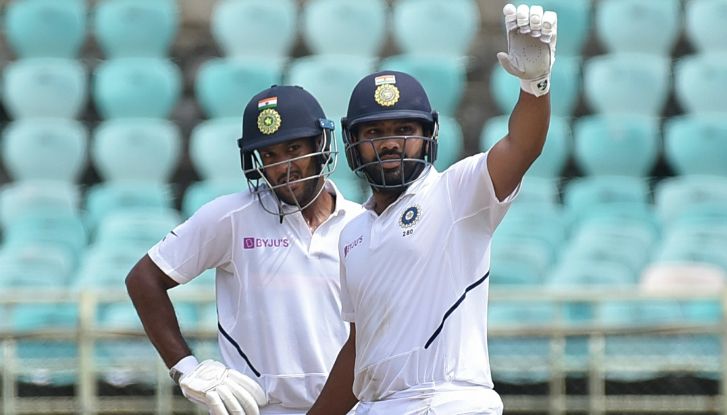 Rohit and Mayank formed the third largest partnership for India for the first wicket. Both left behind Dhawan and Vijay. Dhawan-Vijay shared a 289-run partnership in Mohali in 2013. The record of the largest partnership for the first wicket for India is in the names of Veenu Mankad and Pankaj Rai. The two had a 413-run partnership in 1956 in Chennai. Dravid and Sehwag pair at number two in this case. The two shared a 410-run partnership against Pakistan in Lahore in 2006. The record for the largest partnership for the first wicket in a Test is to South Africa's Graeme Smith and Neil McKenzie. The two shared a 415-run partnership against Bangladesh in 2008 in Chittagong. Ashwin and Jadeja.
There was no Game after Tea Due to Rain on the First Day
Earlier on the first day of the Test, India won the toss and decided to bat. Rohit and Mayank shared an unbeaten 202-run partnership. Rohit was unbeaten by 115 and Mayank 84 by the end of the day's play. The game could not take place after tea due to rain and poor light.