Saina was a bronze medalist at the 2012 Olympics, won silver at the 2015 World Championship and bronze in 2017

Earlier wrestlers Babita Phogat and Yogeshwar Dutt also joined BJP; Both contested in Haryana, but lost
Indian shuttler Saina Nehwal stepped into the court of politics. Saina Nehwal Join BJP. He took the membership of the party at the BJP headquarters in Delhi. The badminton player said that Prime Minister Narendra Modi promoted sports in the country, I am inspired by him. Saina along with her sister Chandranshu also took BJP membership. Earlier, wrestlers Babita Phogat and Yogeshwar Dutt also joined the BJP.
Saina said, "There was no reason for him to start the game. Now joined BJP, there is no reason for that either. The Prime Minister works hard day and night. It feels good I am also illuminating the name of my country. Now I want to do a lot more for the country by joining the party. It would be a matter of pride for me. I believe that the BJP is doing a lot for its country. I will continue playing with politics. "
Racket was Gifted to PM, Modi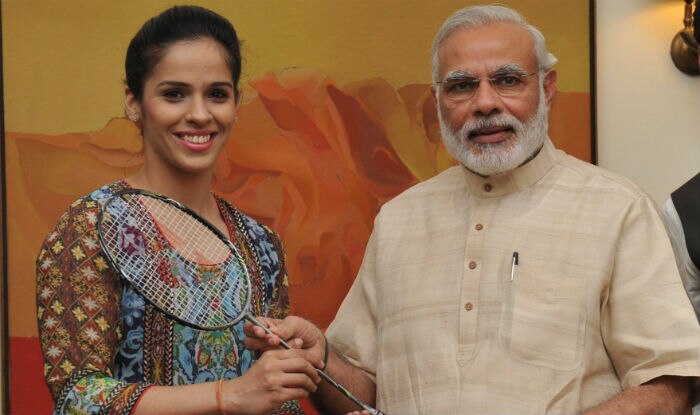 Saina Nehwal is a fan of PM Modi. In 2015, she reached the first position in world badminton ranking. Then he presented one of his rackets to PM Modi. With this racket, Saina shot at the World Championship. PM, Modi also accepted this racket and said that he will keep it in the precious gifts which he has received as Prime Minister.
She will do Well in Politics: Saina's Mother
Saina's mother Usha Rani said, "I am very happy. Saina has done very well in the game. She will also do well in politics. BJP has done a great job for the country. Saina has always worked hard and she will continue this in politics as well. "
Saina Became the First Indian Badminton Player to Win an Olympic Medal
She is the only Indian to win a medal in all major badminton tournaments (Olympic, World Championship and World Junior Championship). She is the first Indian badminton player to win an Olympic medal. Saina captained the Indian team in the 2014 Uber Cup. Then India won the bronze medal.
She won silver at the 2015 World Championship and bronze in 2017. He has three gold, one silver and two bronze medals in the Commonwealth Games. He has two bronze medals in the Asian Games and three bronze medals in the Asian Championship.
Rajiv Gandhi Khel Ratna Award in 2010
Saina was voted Most Promising Player of the Year by the World Badminton Federation in 2018. He was awarded the Arjuna Award in 2009, the Padma Shri in 2010, the Rajiv Gandhi Khel Ratna in 2010 and the Padma Bhushan in 2016.
Yogeshwar-Babita Lost in Haryana Elections in Sports Politics
Apart from Yogeshwar and Babita, former Indian hockey team captain Sandeep Singh had contested the Haryana assembly elections last year on a BJP ticket. Babita and Yogeshwar lost, but Sandeep Singh won. He was sworn in as Minister of State and then given the post of Sports Minister. Saina Nehwal Join BJP.