At the Grand Hyatt Hotel, Shiv Sena, Congress and NCP paraded 162 of their MLAs, saying – Governor can come and see if he wants
Uddhav said- We have been here for 25-30 years, not 5 years; Satyameva should be the victory .. not the victory of power
The events that have been going on in the last three days in Maharashtra is something like this The country's highest court will give its verdict on Tuesday at 10:30 am on the demand for floor test in Maharashtra. Earlier, the hearing took place on both days, Sunday-Monday. Shiv Sena, NCP and Congress had reached the Supreme Court on Saturday night against Devendra Fadnavis and Ajit Pawar's swearing-in swearing-in ceremony on Saturday. On the other hand, there was a lot of uproar in this issue in Parliament too. Meanwhile, the political drama of Maharashtra continues. The MLAs are busy in hotel swaps and parades. At present, a parade of Shiv Sena-NCP and Congress MLAs is going on at the Grand Hyatt Hotel. Shiv Sena leader Sanjay Raut claims that all 162 MLAs will be present in the parade and if the Governor wishes to come and see himself. NCP President Sharad Pawar arrived here along with Supriya Sule.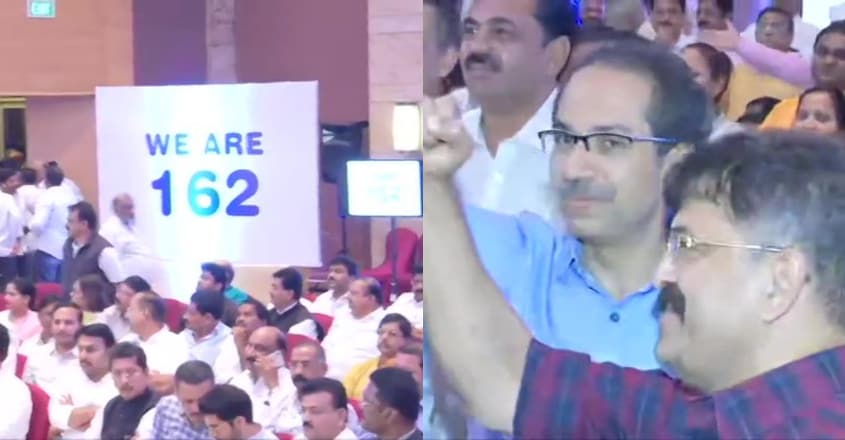 Before MLAs Prade
Before the parade of MLAs, Chief Minister Devendra Fadnavis took a meeting, but the chair of Deputy CM Ajit Pawar appeared empty in the meeting. Shiv Sena, Congress and NCP handed over a letter of support of 162 MLAs to Governor Bhagat Singh Koshyari during a hearing in the Supreme Court on the floor test in Maharashtra on Monday. However, the three parties had earlier submitted an affidavit of 154 MLAs to the Supreme Court, which they had to withdraw. Devendra Fadnavis was sworn in as CM on Saturday morning before the Governor and Ajit was sworn in as Deputy CM with him. The next day Ajit said that he was in NCP and would stay. It also said that the BJP-NCP alliance will give a stable government in the state. However, even then Sharad Pawar had said that no such alliance would be done by NCP.
Sharad claims- We will form government, no doubt
Sharad Pawar said – This (taking oath of Ajit Pawar and supporting BJP) was not the party's decision and we do not support it. It is wrong to say that I have a hand behind Ajit's rebellion. I have not had any contact with him. Whether he is to be expelled from the party or not … It will be decided at the party level. And, there is no doubt that NCP, Shiv Sena and Congress will form government in Maharashtra.
MLA involved in Ajit's oath, now with Sharad Pawar
NCP MLAs Daulat Daroda, Narhari Jirwal and Nitin Pawar returned to Mumbai. All these MLAs were involved in the swearing in of Ajit Pawar on Saturday. However, on returning to Mumbai, all these MLAs expressed support for NCP President Sharad Pawar.
BJP said – will do for majority
BJP leader Narayan Rane said that the people of Maharashtra had given us a mandate, so we formed the government. Now we will do whatever we have to do to prove majority. Earlier, both Chief Minister Devendra Fadnavis and Deputy Chief Minister Ajit Pawar reached the ministry. Both garlanded the statue of former Chief Minister Yashwantrao Chavan. Today is his death anniversary.
Nawab Malik's tweet- We too have stubbornness to settle
NCP spokesman Nawab Malik once again committed to form the government and he tweeted a tiger. Malik wrote – If Falak has the stubbornness to make the electricity fall, then we too have the stubbornness to settle there. In a similar fashion, Shiv Sena spokesman Sanjay Raut also tweeted. He sent a message through his tweet that the current political developments are an important page in the history of the state. He tweeted- History is past politics and politics is current history.
Fadnavis was sworn in at 8 am on Saturday
On November 23 morning, at 5.47 minutes, the Center announced the removal of the President's rule in Maharashtra. After this, Devendra Fadnavis took oath as Chief Minister at 8 am on Saturday. At the same time, NCP leader and Sharad Pawar's nephew Ajit Pawar was sworn in as Deputy Chief Minister.