Rajnath Singh said – Entire country excited about fighter aircraft, Defense Minister will also do arms worship in France

Rafale fighter aircraft deal worth Rs 58 thousand crore signed between India and France government in September 2016
France will hand over the first Rafale fighter aircraft to India in the presence of Defense Minister Rajnath Singh on Tuesday. At the same time, before Rajnath Singh Arrived in France, He said on Monday that everyone is excited about the handing over of Rafale. The Rafale aircraft will officially join the Indian Air Force. Every Indian will be witness to this. Rajnath also met French President Emmanuel Macron. Air Chief Vice Marshal HS Arora will also accompany the Defense Minister.
Rajnath is in France on a three-day tour. He said on Twitter on Monday that India is eager to strengthen relations with France. India-France bilateral relations have strengthened in recent years. The relationship between the two countries has to be further deepened.
Know Here: Air Force Day
Rajnath will also perform arms worship in France
According to the information, Rafael will reach India in May 2020 after training of pilots and officers. Singh will also perform arms worship in France on the occasion of Vijayadashami and will also fly in Rafale fighter jet.
The First Batch of Four Aircraft will Arrive in May
The handing over of the Rafale jet aircraft will take place in the premises of Dasha Aviation in Marignac of Bordeaux. This place is about 590 km from Paris. Although Singh will get the first aircraft in 36 Rafale jets on Tuesday, but the first batch of four planes will come to India by May next year. Later in the day, Rajnath Singh will also hold annual defense talks with Parle during which both sides will explore ways to further strengthen defense and security relations.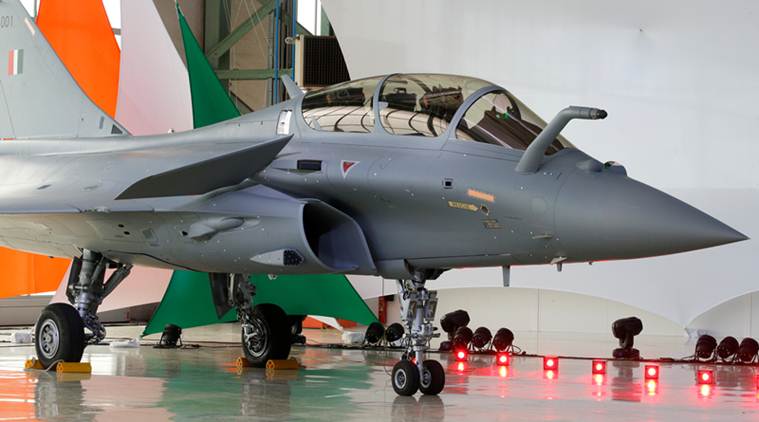 Deal in 2016
The Rafale fighter aircraft deal was signed between the Government of India and France in September 2016. In this, the Air Force will get 36 state-of-the-art fighter aircraft. The deal is worth 7.8 million euros (about 58,000 crore rupees). The Congress claims that the price of a Rafael fighter jet was fixed at Rs 600 crore during the UPA government. One Rafale would cost around 1600 crore rupees during the Modi government. India is taking Rafale to increase the capacity of the Air Force on its eastern and western fronts. The Air Force will deploy one squadron each of Rafale at Ambala in Haryana and Hashimara Airbase in West Bengal. Rajnath Singh Arrived in France.