The bus (number UP 3380/5877) ran from Alamganj depot of Lucknow at 11 a.m. on Sunday night. Driver Kripa Shankar Chaudhary was running it. Ashish Mishra was the executor. A bus stopped at Kannauj at a bus. Here the drivers and riders ate food. This painful incident took place eight kilometers before the first toll plaza, after reaching Agra via the Lucknow-Agra expressway, after going seven kilometers on the Yamuna Expressway through the inner ring road. Big accident on Yamuna Expressway.
On the Yamuna Expressway in Uttar Pradesh, at just around 4:30 in the morning, the bus fell unconscious and fell into the drain. In this 29 people died. More than 20 injured have been admitted to the hospital. The incident happened near Etadpur town, 9 km from Agra. The dead include 27 men and 2 girls.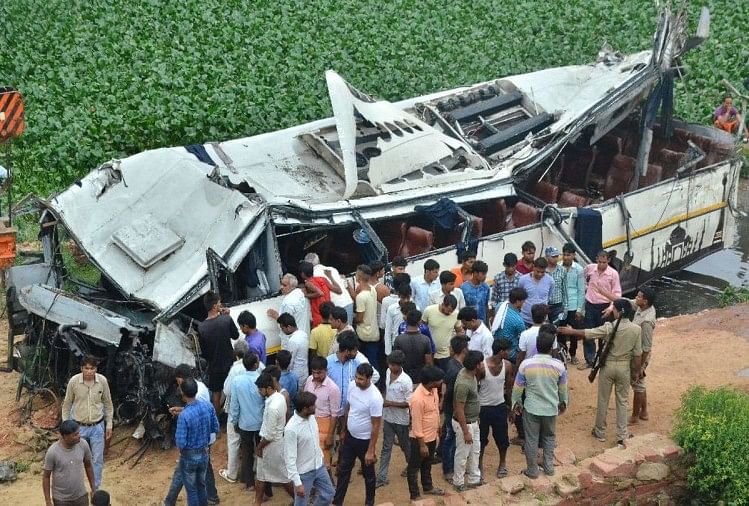 SSP (Agra) Babloo Kumar said that the Janaratha service of UP roadways bus was going from Lucknow to Delhi. More than 50 passengers were on board in the bus. With the help of crane, the bus was taken out of the gutters and bodies of 29 people were recovered. At the same time, DM Agra NG, Ravi Kumar, feared the accident due to the speed of the bus and due to the driver's naps. Big accident on Yamuna Expressway.
5 lakhs Declaration of aid amount
Chief Yogi Adityanath condoled the tragedy He has directed Deputy Chief Minister Dinesh Sharma and Transport Minister Independent Dev Singh to go on the spot. The Chief Minister said that every possible help is being given to the victims. At the same time, roadways paid Rs 5 lakh to the relatives of the dead. There is talk of giving assistance.
Yogi orders inquiry in 24 hours
Yogi has constituted a committee to the Transport Commissioner and the Divisional Commissioner to submit an investigation report of the incident within 24 hours. At the same time, BJP executive president JP Nadda expressed his feelings for the families of the dead. They said, 'I pray for the wounded people that they are quick to recover.
West Bengal Chief Minister Mamata Banerjee condoled the death of 29 passengers in a road accident in Uttar Pradesh on Monday. Mamta Banerjee tweeted, "Agra has been sad to hear about the death of people due to another bus accident. I express my deep grief over the bereaved families. I wish the wounded victims to be quick. Follow all of Safe Drive Save Life. '