Three Mirage 2000 and two Sukhoi-30 MKI fighter planes participated in the air show at Hindon Air Base, Ghaziabad.
Air Force Day: The Air Force made its 87th Foundation Day on Tuesday. During this time, three Mirage 2000 and two Sukhoi-30 MKI fighter aircraft were also included in the air show at Hindon Air Base in Ghaziabad. Among them was the same Sukhoi-30 MKI (Avenger-1), which Pakistan claimed to have killed on the next day of the Balakot Airstrike on 26 February this year. In this way, India exposed Pakistan's claim.
The Air Force said, "Pakistan's claim of killing Sukhoi-30 MKI was false. The truth is that Wing Commander Abhinandan shot down the F-16 fighter aircraft made in the US of Pakistan. Abhinandan did this feat with a MiG-21 Bison fighter aircraft made in Russia. He was also awarded the Vir Chakra for this. "
Know Here: Rafale
'Abhinandan Shot Down Pakistan's F-16 Plane'
On 26 February, the Air Force dropped bombs on the camps of terrorist organization Jaish-e-Mohammed in Balakot, Pakistan. The next morning, Pakistan was attacked by a formation of 24 aircraft, which was chased by India. Wing Commander Abhinandan, who was flying the MiG-21, then flew to Pakistan Occupied Kashmir (PoK) in pursuit of the Pakistani fighter aircraft F-16. He was captured by the Pak Army there. Those who were later released.
'Nobody can Forget the Soldiers Involved in Airstrike'
Air Chief Marshal Air Chief Marshal RKS Bhadauria said, "Balakot respects the contribution of personnel of the command, stations and units in the Airstrike, which took place earlier this year. All performed their work quietly in a professional manner. Nobody can forget this. "
Abhinandan Flew Fighter Plane at Hindon Airbase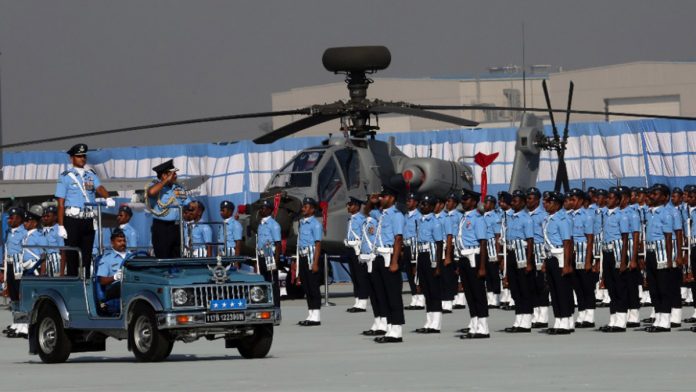 Pilots involved in Balakot Airstrike, including Abhinandan at Hindon Airbase, flew Mig fighter planes. During this time the three army chiefs were present at Hindon Air Base. All the pilots involved in the Airstrike, including Wing Commander Abhinandan present, were given a citation.
Also Looked Women Power
Please tell here that during the parade, the message of empowering women officers and pilots of the Air Force was given. Not only this, the Indian Air Force also honored super heroes who braved in different fields during this period.